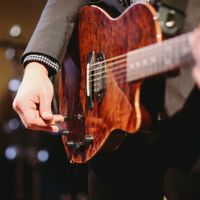 Chances are, you have never hired a wedding band before, and after this booking, you never will again. A great wedding band can make your event spectacular, and a mediocre band can be a distraction or even a blight on your special day. Below we've listed our top 6 tips for landing a band that's a great fit… 
Do your research. Chances are there are many bands who are nearby and available to play your wedding. You can ask your venue, your wedding planner, or family and friends if they have had a recent experience with a good band, and what the price for that band was. The internet is also a primary resource, and you can usually see a band's audio and video, as well as information about what they can provide for your wedding.
Find a band that fits your personality. Remember that you want everyone at your reception to have a good time, and it's probable that your favorite band or style won't please everyone in attendance. The happiness of the couple is most important, of course, but if you can book a band who can please you, your family, and your friends, your wedding will be that much more memorable! Remember that versatility is important in all aspects of your experience with the band - repertoire, equipment, additional services, and pricing should all be up for discussion.
Ask plenty of questions. If it is important to you, make sure it is important to the band. Get their song list - are there songs you don't want, or definitely want? Are the band personnel always the same? What will they wear at the wedding? Is there plenty of information on their website? Is their pricing flexible? One of the best ways to determine if a band is right for you is to imagine your ideal band and ask them questions to see if they fit what you imagine.
Sign a contract. This is very important. Not only does a contract protect you and ensure you know exactly what you are paying for, it assures you that the band knows exactly what you are expecting. In our experience, couples and bands tend to "fill in the blanks" with whatever assumption is in their best interest - they assume things when those things are not written down (I thought the band was bringing lights!). Be wary of a band that does not absolutely insist on a contract - every professional band will have a standard contract for a wedding, but the terms should be flexible to your needs.

Don't get hosed on the price. 

Event bands are a business, and the goal is always to get you to pay as much as possible. Here's the technique - you find an interesting band on the internet, and send them an email requesting a quote. They email you back without a quote, and request that you call them to "discuss your special day" or something like that. They say they want to talk because they want to give you a personal quote, but really they are trying to see just how much you'll pay. They will start with a sky-high price, feel you out, and then bring it down until you say yes. If a band won't give you a simple, straightforward quote, go elsewhere. They will take advantage of your enthusiasm to get as much money out of you as possible.
See them play live. Websites are great, but modern technology can make a lousy band sound great, or possibly a great band sound lousy (although we would argue that the detail and attention a band puts into its website and promotional materials reflects how much detail and attention they will put into your wedding). A good band will provide plenty of opportunities to see them perform  - check their band calendar. Note: Although opinions differ on this, our view is that a professional band will not allow you to see them play at someone else's wedding. A wedding is a private event, not a showcase for the band to book future business. The band might have video footage of a wedding, but even video recording a private event is sometimes considered unprofessional.
No matter your taste or budget, take some time to find a band that fits you and your personality. There are many bands out there at different quality and price points. Don't automatically assume you have to spend a fortune to have a memorable wedding reception. If you have questions or comments about booking a wedding band (whether us or another), don't hesitate to contact us or comment below!

Click HERE to contact Makeshift for more information!